SATURDAY: 11-1 & 2-4, St Mary & St John Church Hall, 271 Cowley Rd, OX4 2AJ.
SUNDAY: 10-12 & 1-3, St.Margaret's Institute, 30 Polstead Rd, Oxford OX2 6TN.
For a map & directions see here Doors open 15 mins before.
Scott has been practising Astanga yoga since 2002 and teaching it since 2003. He is the co-founder and main teacher at Stillpoint Yoga London (SYL) founded in 2009 with the late Ozge Karabiyik. Scott lives with his wife Louise and three sons in Kent and has travelled an hour to teach the 3.5 hr morning self-practice classes at London Bridge every weekday since 2011. His teaching is inspired and influenced by John Scott, Lucy Crawford and Manju Jois. Scott met John and Lucy in 2002 and assisted their self-practice weeks ver the years. In 2008/2009 he did a 2-month teacher training at their Stillpoint yoga centre in New Zealand. It was here he met Ozge and together they created SYL. In 2015 he became one of the few teachers to receive the 500hr certification from John Scott Yoga to teach Astanga Yoga's primary and intermediate series, and was recommended by John Scott to be listed on Ashtanga.com. Manju Jois, son of Sri.K Pattabhi Jois has been teaching workshops at Stillpoint Yoga London since 2012, and in 2016 Manju authorised Scott to teach the primary and intermediate series. Scott is registered as a senior yoga teacher with Yoga Alliance UK and he has also undergone extensive training with Clear Mind Institute, gaining their Level 1, 2 & 3 certificate in Mindfulness and Compassion. Scott teaches with encouragement, insight and integrity to the authentic tradition left by Sri K Pattabhi Jois. This is his 4th workshop in Oxford. See below what he will be teaching. A fascinating clip about Scott and SYL, featuring John Scott and Krishnamacharya can be viewed by clicking here
COST: £26 per session / £96 all 4 sessions. Earlybird discount £23 / £87 if paid by 30th Dec. Full-time students/UB40/over 65s qualify for a £3 discount per class: state your category when booking. Cancellations: if made more than 14 days before the workshop starts 10% will be forfeited; 7-14 days before 50%; less than 7 days before workshop start 90% is forfeited. If someone takes your place and you inform us beforehand, only 10% is forfeited. Please bring a light lunch both days. Free tea/coffee and biscuits provided. Yoga mats, mat bags, CDs, DVDs & yoga books on sale. Parking SAT: use car park behind Tesco (200yds away). SUN: free parking in adjacent Chalfont Rd
Please download the PDF document below for the form to fill out and details on where to send it
SATURDAY 11 am – 1 pm
Following The Path Of The Breath – A Primary Series Practice
Beginning the workshop we will see that the Astanga Yoga practice is fully expressed through the breath's relationship with the body. Through the lens of a full counted vinyasa-led primary series,
we will look at the patterning and structure of how asanas evolve as the body flows through direction and structure, and see that we are moulding our postures to our breathing pattern, refining the moving/sensory experience from that awareness.
2- 4 pm
Gentle Strength – Balancing effort with effortlessness
We will look at movement and stillness, merging aspects of specific asanas to see how bandha (mindful strength) is created through focus and direction. Connecting through postures we know and connect to we will see how asanas are about an internal felt sense, a constant feedback loop of direct physical sensation. Then we will notice how vinyasa practice is a fluid relationship between these integrated parts.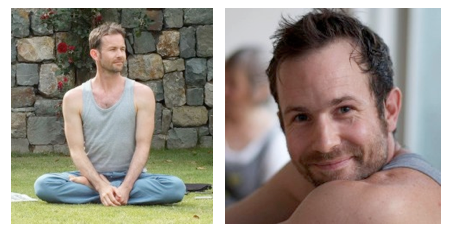 SUNDAY 10 am – Noon
Blending The Series – A Primary and Half Intermediate Series Practice
Continuing from yesterday, we will work with the breath and it's continued relationship with the process of the body. We will see how as we move through the practice, and asanas become more challenging we are able to draw on the deeper subtle aspects of breath. This helps us move through fears/habitual patterns and we are able to meet struggle with an open mind. Our class will cover Primary and some Intermediate series postures flowing through the counted vinyasa method.
1 – 3 pm
When I see the World I See My Mind – Yoga, Mindfulness and Life  
The last class will bring together deeper aspects of yoga practice, blending the philosophical with the physical, and offer an opportunity to open up to 'the what' which prompted you to start doing yoga. Using breathing (pranayama) and mindfulness techniques we will share how yoga practice can wake us up to the moment-to-moment awareness described in classic texts and scriptures. Importantly, we will discuss how the state of yoga is nowhere other than 'here and now' and is not as elusive as sometimes we imagine it to be.
Download Event Details and Booking Information